Well, I went and got sick! I am on day three of this thing and things are already looking up..... I believe : ) I got this cold from someone living in my household and they are going on week two of this thing! I am REALLY hoping mine doesn't last that long! I have been doing my best at only consuming homemade soups and juices.

Having both the soups and juices is allowing my body to get the nutrition it needs to speed healing while at the same time making it easy on my digestion, leaving its energy on healing. I am really hoping this method works well because I recently started a new job and I already had to call out sick for tomorrow. That is NO GOOD. I am hoping to possibly transfer stores in the future and just really don't want them getting the wrong idea, thinking I cannot be counted upon!

So here is my recipe for a killer Corn Chowder I made yesterday. I felt immediately soothed. It was great. What would have made it that much more soothing was a raw corn bread or something. It's all about those soothing comfort foods when you are sick! The soup alone however, did the trick!

I have seen a couple recipes for Corn Chowder and I have dabbled a bit in all of them. I found a blend that works well for me. Lower in fat than some others I have seen and a nice little kick to get my sinus's going. I have a thing for spicy food so a majority of my food has a bit of a kick!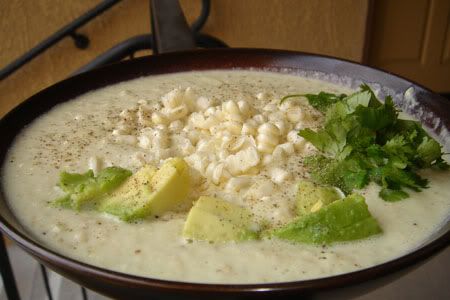 3 to 4 Ears of corn (cut off the cob)
1 whole Avocado
1/2 cup Olive oil
2 cups filtered water
2 cloves of Garlic
1 to 2 teaspoons on Himalayan Salt
A couple slices of Jalepeno (Optional)
1/4 or handful of Cilantro
Blend together all ingredients with the exception of 1/2 of the avocado, 1 cup of fresh corn kernels and a bit of the Cilantro. Dice or cube the Avocado and place remaining ingredients in the soup base. Top with a bit of cracked pepper and voila! This is soooo tasty! I hope you find it as tasty as I do!
Total prep time: 1o minutes
If you would like to make a slightly larger batch so you have some for couple days, try adding a bit of lemon juice to use as a preservative!
Cheers!